The Telegraph Satellite Data Intelligence Conference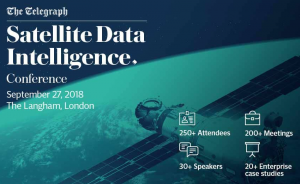 Date and Time:
09.00 – 17.30 27th September 2018
Place:
The Langham, London
BARSC is delighted to be able to offer a 20% discount on the cost of tickets to the The Telegraph Satellite Data Intelligence event which will connect business innovators with rich data insights to boost brand, efficiency and growth.
Some of the companies expected to attend include:

This inaugural conference is the first of its kind; uniting key stakeholders from both enterprises and the thriving British space sector to bridge the knowledge gap between the two and champion innovative partnerships
With revenues from satellite applications set to grow an astounding 360% by 2030, enterprises are waking up to the commercial benefits of increasingly affordable geospatial data.
Putting the spotlight on early adopters across a range of sectors, the Satellite Data Intelligence conference will spark innovation by placing a commercial focus on the opportunities presented by satellite data.

Apply for your 20% Discount
Using the BARSC Discount the ticket prices will be :
Super Early Bird – £495 £396 until 20th of July
Early Bird rate of – £595 £476 until 31st of August
Standard rate of – £795 £636 from 1st of September
Use the form below to let us know that you would like to attend and take advantage of this fantastic offer and we will send you the codes you need to receive your discount: