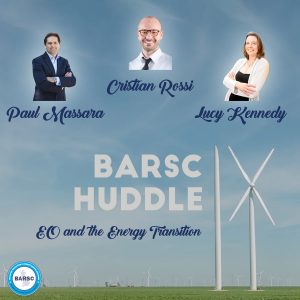 Event: BARSC (Cyber) Huddle IX
Title: EO and the Energy Transition
Date and Time: 14:00 – 15:30 11th December 2020
Place: ONLINE
Who knows where everyone will be in December, but one thing is certain: the unstoppable BARSC Huddle will be online!
The BARSC (Cyber) Huddle IX will bring together BARSC Members and others from the Remote Sensing industry with individuals and organisations from the energy industry.
In this event we want to understand what the challenges are to the energy industry and how earth observation can support the transition to renewable sources.
Chair, Alastair Graham commented: "I'm really looking forward to this event. Renewable energy and the energy transition is a topic of personal interest, and to be able to get members of the energy and remote sensing sectors together should spark some great conversation and hopefully some new connections and collaborations".
Speakers from the energy sector have confirmed their attendance as have EO sector experts.
If there are suitable numbers we will also be looking to try and get some networking going. It promises to be a fascinating event.
Please complete the form below if you would like to attend.