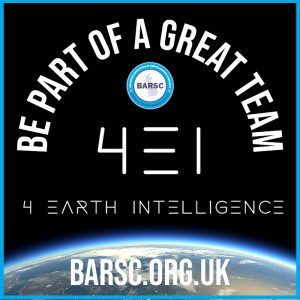 The British Association of Remote Sensing Companies (BARSC), the industry body that promotes the British earth observation industry throughout home markets and around the world, is delighted to confirm that 4 Earth Intelligence (4EI), has become the Association's latest Corporate Member.
With offices in both Bristol (UK) and Abu Dhabi (UAE), 4EI's team of data scientists, GIS experts and Earth Observation specialists are renowned for creating innovative solutions to address their customers' core business issues and challenges.
4EI has built a Product Innovation Hub, creating solutions to meet new challenges for a variety of mainstream markets. So far, they have produced products for identification of surface heat hazards, country-wide habitat and land use mapping, vehicle counting algorithms, and hyperlocal air quality monitoring.
David Hamersley, Senior Remote Sensing Team Leader at 4EI explained more about his company's ambition and how joining BARSC would help them to achieve these; "4EI is delighted to become part of BARSC, joining a group of companies with an aligned vision and appreciation of the power of satellite-derived solutions. At 4EI we aim to leverage satellite data in ways that ultimately improve the operations and decisions of companies and governments for the enhanced well-being of populations and environments around the world."
"BARSC provides an excellent forum to share ideas, experiences and to build collaborations as our industry continues to evolve as ever-increasing rates. 4EI also sees huge benefit in adding our voice to a host of other UK experts to provide a singular, consistent message on important issues. We look forwards to seeing you at the next Huddle!!".
In response, Chairman of BARSC, Alastair Graham commented; "I'm really happy that 4EI has joined the BARSC network of organisations. The strength of BARSC comes from the diversity and breadth of companies that participate in the group."
For more information about the work that BARSC does on behalf of its members please visit: http://www.barsc.org.uk/