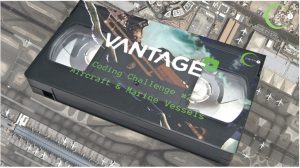 The 2nd ESA funded Hackathon will focus on the analysis of colour HD Satellite Video to support Aircraft and Ship Detection and Motion Tracking.
The challenge will take place between 14th February and 14th March 2022.
Winners will be awarded prizes of up to Euro 5,000!
The competition will run over a period of a month, with technical support available from Earth-i and CGI.
You may enter as an individual or as a team.
You will be given access to the VANTAGE platform, a selection of satellite videos, and example code for processing the videos.
So of the 280 satellite videos in the Vantage library can be seen here: 
Example VANTAGE colour HD satellite videos
Winners will be selected by a panel including Earth-i, CGI and the European Space Agency representatives. The evaluators will be looking for:
Compatibility

 

in terms of producing code that runs in the VANTAGE platform
Innovation

 

in terms of approaches to tracking moving objects in satellite videos
Optimisation

 

in terms of algorithms that are not excessively resource-hungry
Quality

 

in terms of the accuracy and reliability of the output products generated
Value

 

in terms of potential for end-user applications or further development
Event Timetable & Registration Details:
Registration Deadline:

 

Thursday 10th February 2022
Registration:

 

by email to info@earthi.co.uk including details of any resource/library requests you may have. You will need a Google or LinkedIn account in order to register and access the platform.
Competition Starts: Monday 14th February 2022
Briefing & Tutorial Webinar:

 

14th February, 10:00-11:00 CET
Tech Support Webinars:

 

21st, 28th February and 7th March, 10:00 CET
Tech Support:

 

Weekdays during 14th February – 14th March, 10:00-17:00 CET
Competition Ends: Monday 14th March 2022
Individual 15-min Presentation Slots:

 

14th March
Winners Announced / Awards Ceremony:

 

Tuesday 15th March
In the final coding challenge, we are calling for EO coding enthusiasts to use the VANTAGE platform to demonstrate innovative ways to exploit satellite videos for aircraft and vessel object detection and motion tracking. This could include looking for movement on roads, runways, at sea.
The competition is open to all EO algorithm developers and enthusiasts.
Click to download the Hackathon PDF: VANTAGE Coding Challenge No.2