Remote Sensing for the Enterprise: How Agricolus leverages ENVI build an operative, innovative Precision Farming Platform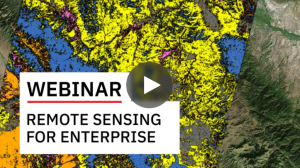 Today's geospatial data analysis needs are becoming increasingly demanding, in all types of industries. Remotely sensed datasets have grown in quantity, size, spatial resolution, spectral detail and temporal cadence.
Today, the ability to efficiently and accurately process and analyze voluminous datasets at the enterprise scale is critical for making informed decisions in a timely manner.
As a result, customers increasingly turn to L3Harris to assist in their transition from desktop to on-premise or scalable cloud environments as a part of their business growth strategy.
Responding to this need, L3Harris has developed an array of geospatial software solutions to address all stages of enterprise deployment, from desktop R&D analytics with ENVI® Server, through batch operational automation with ENVI® Enterprise, to full-scale enterprise applications.
Watch this webinar to learn how the ENVI® Server capability of ENVI® 5.6 accelerates image processing through background and distributed processing, and discover how our customer Agricolus enhances operational, scalable image processing with ENVI® Enterprise as part of their innovative Precision Farming Platform for farmers and agricultural operators.