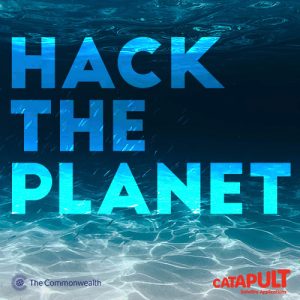 The Satellite Applications Catapult and the Commonwealth Secretariat has announce the Hack the Planet Competition and would like to invite you to the Launch Event on Thursday 22nd April 2021 at 13:00 BST.
The event will include a keynote speech by the Secretary-General of the Commonwealth, The Rt Hon Patricia Scotland QC.
Visit the Event Page to register.
The climate emergency, demonstrated through ever more damaging climatic events, has intensified the need to attack the major sustainability challenges for life on this planet. The ocean, as Earth's primary life support system, is central to solving these challenges.
Covering more than 70% of the planet, it is the ocean that makes Earth liveable and allows people and societies to prosper. It has continually buffered us from the impacts of rising temperatures and rising atmospheric CO2 levels, but is now itself under threat.
Hack the Planet is an entirely virtual international ideas competition designed to stimulate discussion around the development of new concepts relating to the sustainability of the ocean, incorporating satellite data and technologies. Solutions will be aligned to the 10 action areas of the Commonwealth Blue Charter.
The competition will bring together ideas from diverse communities living on the front-line in facing the challenges of the climate emergency and ocean sustainability across the Commonwealth, together with the technical resources to support the innovation of new solutions.
Competition Highlights
22nd April 2021 – Competition opens for entries
21st June 2021 – Announcement of shortlisted entries
1st July – 31st August 2021 – Delivery of Knowledge Exchange programme for shortlisted entrants, including training and mentorship from a range of technical and investment experts
22nd September – Finalists announced
14th October – Final pitch event and winners announced