ICEYE flood analysis will support the delivery of portfolio-level property loss estimates to the Lloyd's market via the MIS GEO platform.
ICEYE, the global leader in persistent monitoring with radar satellite imaging and a provider of flood hazard data, has today announced an agreement with McKenzie Intelligence Services (MIS) providing flood hazard analysis throughout active flood events to support the company in its delivery of property loss numbers to the Lloyd's market via the MIS Global Events Observer (GEO) platform.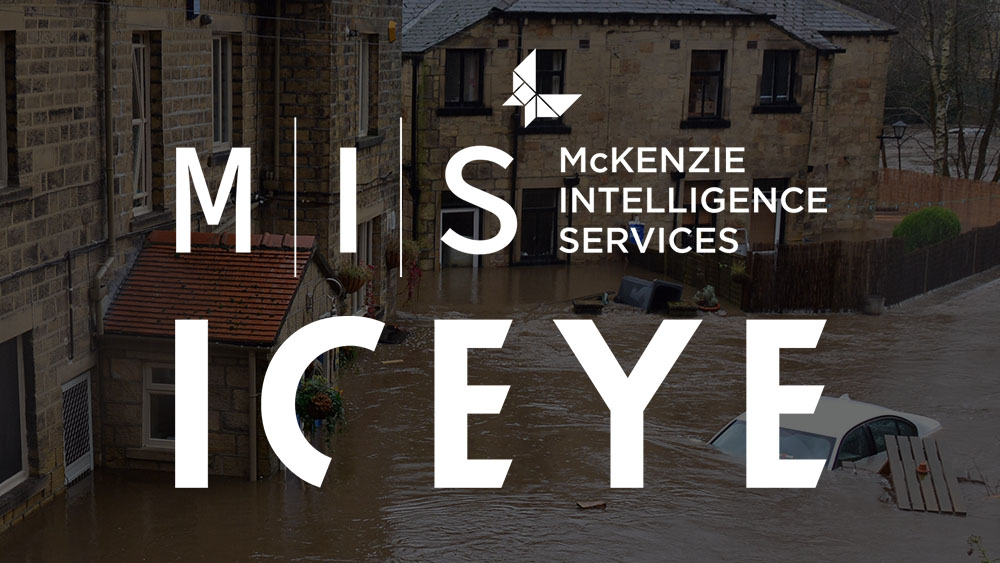 Under the agreement, ICEYE will provide MIS with active flood hazard data before, during and after large-scale flood events. This information will include data relating to flood depth at the individual building level across the affected areas, combining satellite imagery generated by synthetic-aperture radar (SAR) plus flood measurements from auxiliary sources, including river and tidal gauges, digital elevation models, ground sensors and watershed maps.
Critical to ICEYE's offering is that it provides an independently verifiable, transparent, and consistent method of establishing an accurate flood depth measurement in near real-time for any location anywhere in the world. ICEYE can provide these services to any insurer or reinsurer globally.
MIS provides 'decisions-as-a-service', taking multiple data sources, including satellite, drone, and CCTV images, into its GEO platform to provide the insurance industry with observation-based portfolio and individual property loss estimates, allowing for automated claims processing and reporting.
The company's core product, GEO, was developed using co-funding from the European Space Agency's Business Applications programme and supercharges the firm's ability to collect and analyse highly accurate, geotagged external data from a huge range of space and ground sources.
"We are delighted to be announcing our agreement with McKenzie Intelligence Services," says Lisa Wardlaw, Global Head of Insurance Solutions at ICEYE. "This partnership brings together two Lloyd's Lab graduates, combining best-in-class observation analysis from ICEYE with the innovative 'decisions-as-a-service' platform GEO from MIS. By supplying ICEYE's proprietary flood hazard data, we can enhance the services that MIS is delivering under its two-year partnership with Lloyd's and deliver world-class satellite imagery and data to the market."
"We are very pleased to be joining forces with ICEYE on providing flood loss analysis to the Lloyd's market," says Forbes McKenzie, CEO of MIS. "Through our participation in the Future at Lloyd's programme over the past two years, we have gained unprecedented insights into how our technology can add additional value to the whole insurance value chain."
"This new partnership will add further value cases for Lloyd's syndicates and deepen our understanding of flood risks. We look forward to working with ICEYE to better serve the Lloyd's marketplace."