Learn how to use open source satellite data to inform decisions on risk including flooding, subsidence, earthquake movement and sea ice mapping during a two-day practical workshop in March.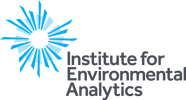 The Institute for Environmental Analytics (IEA) course is being re-run on March 8-9 at Harwell Campus after the sell-out success of the January workshop, which included a visit from Digital Economy Minister Ed Vaizey who was keen to see how UK businesses are making use of data from the first of ESA's Sentinel satellites.
The two-day course provides Synthetic Aperture Radar theory and hands-on use of the toolbox for Sentinel-1. The Sentinel-1 satellites provide a wealth of open source data, with rapid dissemination, covering the globe every six days and carrying a C-band SAR. The all-weather images are taken day and night, and can map marine oil spills, detect movements of the Earth's surface and monitor sea ice and icebergs.
The first morning of the course will cover SAR theory including interferometry. The remainder of the course will be in a computing lab using the Sentinel-1 toolbox developed by the European Space Agency (ESA), processing data both via the interface and command line.
This course will be delivered by Dr Andrea Minchella and Dr Raffaella Guida and is designed for participants who have familiarity with Earth Observation (EO) concepts such as calibration and/or awareness of common EO data issues necessary to go from a level-1 to a high-level product.
The course will comprise:
• SAR theory
• Two examples of using the SNAP interface
• One example of using the command line
• Q&A sessions
The cost is £650 (not including accommodation), places are limited and must be booked by February 29.
Click HERE TO BOOK YOUR PLACE