Many congratulations to NASA which is celebrating its 60th Birthday!
From 2018 through 2022, NASA is marking a series of important milestones – the 60th anniversary of the agency's founding by Congress in 1958, and the 50th anniversary of the Apollo missions that put a dozen Americans on the Moon between July 1969 and December 1972.
Celebrations already are under way. Some are complete, some are scheduled in the coming months, and some are still being planned.
Apollo 50th Logo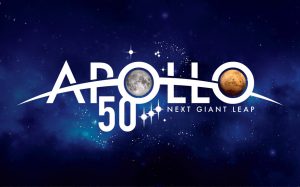 NASA is also preparing to mark the 50th anniversary of the Apollo program, starting in October with the anniversary of the launch of Apollo 7. On Oct. 11, at the National Air and Space Museum in Washington, the U.S. Mint will unveil the design for an Apollo 11 commemorative coin that will go on sale in January 2019.
In December, NASA will join the National Air and Space Museum in recalling the 50th anniversary of the flight of Apollo 8, whose crew of three spent Christmas 1968 in orbit around the Moon. The focus will turn to Apollo 11 in July 2019. Celebrations are planned in Washington and at NASA centers that were crucial to the success of the Apollo Program.
On July 19, NASA TV will broadcast live from the refurbished Apollo Mission Operations Control Room at NASA's Johnson Space Center and several other locations with Apollo connections coast to coast..