Two of the UK's leading Space sector companies, BARSC member Surrey Satellite Technology Ltd (SSTL) and Oxford Space Systems (OSS) have been awarded National Space Technology Programme funding to develop an innovative and stowage-efficient Synthetic Aperture Radar (SAR) payload.
This new technology delivers a truly disruptive solution and is a key enabler for the next-generation of SAR services from orbit where there are currently no low volume, deployable SAR payload solutions that meet the price points and lead times of the NewSpace opportunities. OSS' expertise in novel deployable antennas combined with SSTL's extensive experience with small, cost-competitive satellites delivers a powerful collaboration to successfully address this global market opportunity.
The innovative SAR payload will be exclusively developed in the UK and will comprise of a highly stowage-efficient deployable antenna from OSS and a high bandwidth radar instrument and RF system from SSTL. Successful completion of the project will enable the OSS antenna to be flown on a future demonstration mission from SSTL targeted for a 2021 launch.
Watch the antenna being deployed by the Duke of Kent.
Although an essential part of many geostationary telecoms satellites and likely to form a critical part of a large number of smaller Low Earth Orbit spacecraft, Europe currently does not have a flight-proven deployable antenna solution. Existing deployable reflector antenna technologies tend to fold like an umbrella into a long cylindrical form which is not compatible with small launch envelopes and have significant structural challenges involved in supporting the cylindrical antenna during launch. The OSS novel deployable 'wrapped-rib' SAR antenna is highly stowage-efficient and deploys from a 'doughnut' type configuration.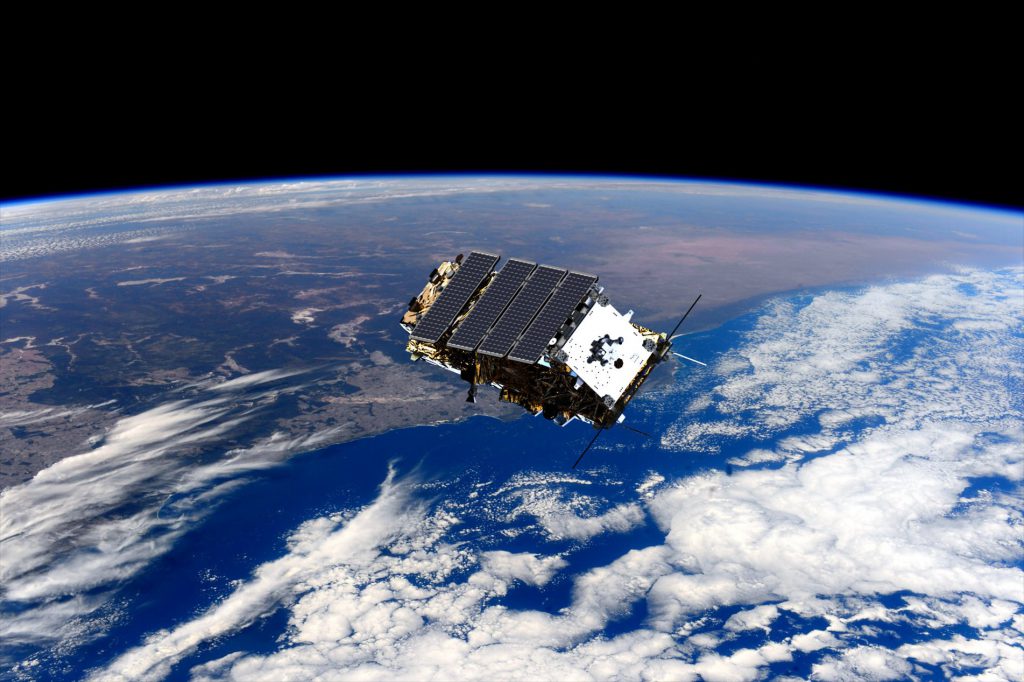 SSTL has been working on low-cost SAR mission solutions for many years and in 2018 launched NovaSAR-1, a 450kg low cost S-Band SAR technology demonstration mission which is acquiring SAR data for mission partners the UK Space Agency, Australia's Commonwealth Scientific and Industrial Research Organisation, and the Indian Space Research Organisation. The new deployable wrapped rib SAR antenna and RF system represents the next step as SSTL continues to push the boundaries for innovative, low-cost small satellite missions.
SAR permits all weather Earth Observation, irrespective of time of day or night. Anticipated applications will employ object detection and feature extraction from single polarisation images, mainly focused on manmade objects and pattern-of-life information. Example applications include disaster monitoring and management, urban planning, transport management, ship identification and tracking, and high temporal constellation-enabled monitoring for security and environmental risk management.
Andrew Cawthorne, SSTL's Director of Sales and Business Development said:
"The novel antenna technology from OSS combined with SSTL's low cost remote sensing systems are key enablers to realise a new generation of disruptive, cost-versus-performance, SAR and mixed SAR/optical missions. We believe that there is a strong market for this new SAR payload, with a shift in the market towards small satellites in LEO constellations delivering increased revisit times and a demand for non-optical EO data or combined SAR/optical data."
Shefali Sharma, Senior Commercial Strategist at Oxford Space Systems said:
"This collaboration under UK Space Agency's NSTP Flagship funding allows us to focus on maturing a variant of our 'wrapped rib' antenna toward on-orbit demonstration. We view this novel SAR payload as a key enabler for the next-generation of communications and SAR services from orbit. The antenna is highly scalable and tunable and has been specifically designed for volume production, targeting smallsat constellations. As such, it's suitable for a range of commercial opportunities not only here in the UK, but globally too."
Compared to optical sensors, the any-time/region imaging, capability of SAR makes it ideal for surveillance missions, which can serve both national security and environmental monitoring applications. A small satellite constellation approach that can be enhanced by launches of additional satellites at short notice would also fulfil requirements for resilience and responsiveness.
Dr Graham Turnock, Chief Executive of the UK Space Agency, said:
"Our National Space Technology Programme is all about supporting the development of space technology and skills to drive growth in the UK economy. The funding to develop this innovative Synthetic Aperture Radar (SAR) payload will enable an exciting collaboration on new technology that will be developed here in the UK and will be of huge interest to customers in Europe and the rest of the world."