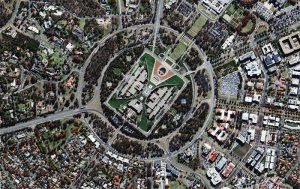 Surrey Satellite Technology Ltd (SSTL) has signed a contract with LatConnect 60, based in Australia, to provide high resolution optical data from the SSTL S1-4, an Earth observation satellite which was launched in September 2018.
SSTL will retain ownership and overall in-orbit satellite operation, and will lease imaging payload capacity as well as enable operational access to LatConnect 60 to submit tasking requests for its capacity share from Australia for the satellite's lifetime, designed to be in excess of 7 years.
The new contract will contribute high resolution panchromatic and multispectral optical data to LatConnect 60 in support of their activities in Australia and beyond.
LatConnect 60's team in Western Australia will process the data further to provide analytics-ready data products and insights.
Phil Brownnett, Managing Director of SSTL said "We are very pleased to announce this new contract for SSTL S1-4 data with LatConnect 60 which furthers the UK's ties with the Australian space industry and brings SSTL's sub metric earth observation data to new markets."
Venkat Pillay, CEO of LatConnect 60 said: "We are very excited to have signed this agreement with SSTL and to be working together at the forefront of space innovation. Utilizing this satellite capacity exclusively in Australia, LatConnect 60 will be able to fill key data gaps for customers, while developing local capability which will create jobs and help grow the rapidly emerging Australian space sector."
The SSTL S1-4 satellite has a mass of 450kg and is capable of acquiring multiple targets in one pass, utilising spot, strip and mosaic imaging modes and 45 degree off-pointing agility for a range of applications including urban planning, agricultural monitoring, land classification, natural resource management and disaster monitoring.
The very high resolution imager on board the spacecraft has been designed and manufactured by SSTL and acquires sub 1 metre resolution images in panchromatic mode and sub 4 metre resolution images in multispectral mode, with a swath width of about 20.8km.
LatConnect 60 is based in Perth and provides high resolution satellite imagery and medium resolution hyperspectral imagery over Australia, Asia Pacific, Middle East, Africa, Europe and the Americas, and provides activity based intelligence workflows and situational awareness analytics services.
In February 2021 the UK and Australia signed a new 'Space Bridge' partnership to increase knowledge exchange and investment across both countries' space sectors and paving the way for working on collaborative space-related activities.
Arfan Chaudhry, Head of International Policy at the UK Space Agency, said: "Our pioneering Space Bridge is already unlocking improved access to trade and investment, helping our innovative space sector collaborate more effectively than ever.
"Now, this exciting partnership between SSTL and LatConnect 60 is harnessing the UK's world-leading Earth observation capabilities which bring a range of benefits here on Earth, including helping us monitor and tackle climate change, respond to natural disasters and manage our natural resources."
Karl Rodrigues,General Manager (acting)at the Australian Space Agency (ASA) said the partnership was an important development in the UK-AustraliaSpace Bridge.
"Australian businesses and researchers have even more opportunities to showcase their capabilities to the world. It is an important step in helping to grow Australia's space industry through international partnerships."
The space sector is one of the fastest-growing UK sectors and aims to create 30,000 new jobs by 2030. The Australian space sector is also growing with up to 20,000 new Australian jobs expected by 2030.