The PanGeo Alliance, the first global alliance of Earth Observation satellite operators, is pleased to announce Geoinformation Systems of the National Academy of Sciences of Belarus as the latest new member of the alliance.
In addition, PanGeo is celebrating 3 years since its launch in Paris, as all the members gathered in the French capital to commemorate the formation of their collaboration and to evaluate its results and look to the future.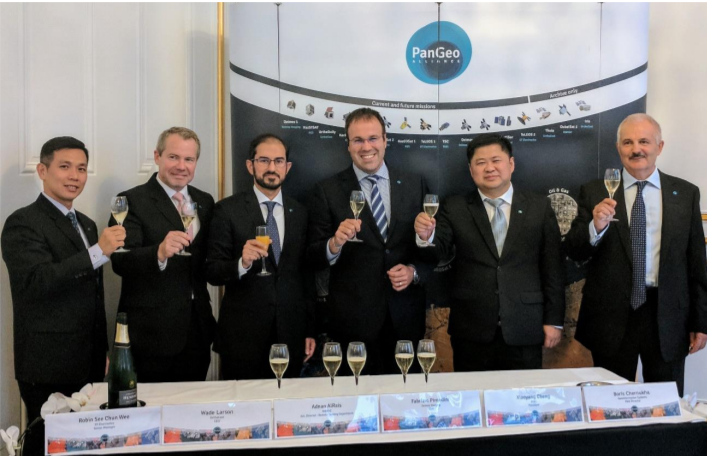 The current space assets of the new member include a new multispectral sensor, BKA-1, with a spatial resolution of 2.1 metres. The PanGeo Alliance fleet now consists of 13 operational Earth Observation sensors, providing multispectral imagery in a wide range of resolutions, from 20 m to 75 cm per pixel. With 7 operational very-high resolution satellites, the PanGeo Alliance manages the largest virtual constellation of submetric satellites in the world.
This unprecedented collaboration assures a daily global imaging capability, with multiple revisit opportunities per day over any target.
Additionally, the imagery acquired by the different satellites are fully compatible, enabling a seamless exploitation of the consortium's data.
The satellites, located in different orbits, allow the capture of the same area of interest several times a day, and at different hours, boosting the possibilities to acquire cloud-free imagery in short periods of time. This is key for a wide range of applications, especially those requiring a real-time response and frequent monitoring over the same area of interest, such as border and maritime surveillance, emergency services and defence and security.
Since its launch in September 2014, the PanGeo Alliance has carried out several joint projects, such as large country coverages for mapping, demonstrating the added value that working together presents for both the members and the customers. The PanGeo Alliance is an unparalleled consortium of several entities working synergistically as one single body. The international character of the alliance, which transcends borders, represents a valuable asset that enables it to target businesses and stakeholders in a wide range of sectors, worldwide.
"We are delighted to join the PanGeo Alliance in a collaboration that, we believe, can significantly accelerate decision making in a wide range of fields benefiting end users. Making BKA-1 imagery available within the PanGeo portfolio will expand the market for us and give opportunities for new and existing customers" said Sergei Zolotoi, Director of the R&D enterprise Geoinformation Systems of the National Academy of Sciences of Belarus.
For more information, visit http://www.pangeo-alliance.com/