Conference Title: 'UK Space' Conference 2019
Dates: 24th – 26th September 2019
Location: International Convention Centre (ICC) Wales
---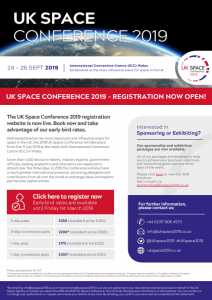 The International Convention Centre in Wales will play host to this year's UK Space Conference.
This biennial flagship event brings together the entire space community, including government, industry, academia, research and financial communities.
The conference will offer the space community unrivalled opportunities to meet, network, do business and shape the landscape for the coming years.
Sponsorship and exhibition opportunities
The UK Space Conference 2019 is an exceptional opportunity to increase awareness of your brand across the supply chain and for your organisation to demonstrate its engagement in the strategic issues affecting the space sector. Email sponsorship@ukspace2019.co.uk for more information.
For further information, please visit: https://www.ukspace.org/event/uk-space-conference-2019/